Attractions
August Schell Brewery | Glockenspiel | Way of the Cross | Heritage Tree | Cathedral of the Holy Trinity | Hermann Monument
Morgan Creek Vineyard | Minnesota Music Hall of Fame | Lind House | Wanda Gag House | Turner Halle
Harkin Store | Brown County Historical Society-Museum | River Region River History & Info Center
Monuments
German-Bohemian Immigrant Monument | Historical Preservation | Brown County Veterans Memorial | Defenders Monument
August Schell Brewery
August Schell Brewing Company claims the title as the second-oldest, family-owned brewery in the nation and holds the title as the oldest brewery in Minnesota.
Schell's specializes in brewing German-style lagers. In addition to the 14 craft beers that Schell's produces, in 2002 they adopted Grain Belt and Grain Belt Premium Light into the family. They have brewed the Grain Belt label at Schell's Brewery for the past seven years. This acquisition allowed Schell's to do its part in preserving another legendary Minnesota beer.
Stroll the beautiful gardens, get a glimpse of Schell's unique history in the Museum of Brewing, and browse the 2,000-square-foot Gift Shop. Enjoy a brewery tour and sample some of America's finest beers. Schell's Visitor Center also features a Rathskeller Tap Room, its architecture reminiscent of old-world, Germanstyle Rathskellers.
Location: 1860 Schell Road, New Ulm, MN 56073
Contact: 800-770-5020 (ph) • 507-354-5528 (ph) • 507-359-9119 (fax) • schells@schellsbrewery.com, www.schellsbrewery.com
Brewery Gift Shop: Open daily, 11 AM-5 PM
Brewery Tours: September – December: Friday – 3:00 PM; Saturday – Noon, 1:00, 2:00, 3:00, and 4:00 PM; Sunday – 1:00, 2:00, 3:00, and 4:00 PM January – May: Friday – 3:00 PM; Saturday – Noon, 1:00, 2:00, 3:00, and 4:00 PM; Sunday – 1:00 and 2:30 PM *No tours during Bock Fest
Summer Schedule: Tours run daily, Memorial Day through Labor Day Monday through Friday -1:00, 2:30 and 4:00 PM; Saturday – Noon, 1:00, 2:00, 3:00 and 4:00 PM; Sunday -1:00, 2:00, 3:00 and 4:00 PM
*Note: Tour times are extended during these New Ulm city festivals: Bavarian Blast (third weekend in July) and Oktoberfest (1st and 2nd weekends in October). Please contact us for those schedules.
Cost for Tours is $3 per person; 12 and under are free. Tours last approximately one hour; they include the history of the family, the brewery, and a tasting in the Tap Room.
*There is limited access to the production areas.
Glockenspiel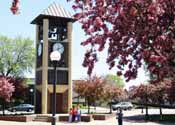 Located downtown, the 45-foot tall Glockenspiel's bells can be heard chiming throughout the day and playing programmed pieces at noon, 3 PM. and 5 PM. The Glockenspiel houses 37 bells with a total weight of more than two tons. Twelve figurines depicting characters from the city's history, rotate on a circulating stage during performances. From Thanksgiving to early January, the figurines of a three-piece polka band that stand directly below one of the clock faces are replaced with a nativity scene. It is one of the few free-standing carillons of its size in the world.
Location: 327 North Minnesota Street
Hours: Noon,3 & 5PM daily; 10:30AM, 1 & 2PM during festivals
Way of the Cross
New Ulm's Way of the Cross was completed in 1904 and renovated in 2004. Its 14 stations, with statues imported from Bavaria, provide a quiet, reflective walk up a gentle incline to a chapel dedicated to the Mother of Sorrows. Entrusted to the Diocese of New Ulm, the Way of the Cross is located on the 5th North hill, behind the New Ulm Medical Center, and includes a nearby memorial to Father Alexander Berghold, an instrumental priest in the 1800s who initiated the project along with Sister Flavia of the Poor Handmaids of Jesus Christ.
Location: 1500 5th North, behind the Medical Center
Hours: Daily from April to October
Heritage Tree
When German settlers founded New Ulm, they used a stately oak tree that still stands at 3rd South and German Streets as the reference point for the town plat. One hundred and fifty years later, the town's residents celebrated New Ulm's anniversary with a different type of tree. Reminiscent of those that decorate German towns, the Heritage Tree depicts different stages of the town's history, from a riverboat to the railroad, the New Ulm Battery and a beer wagon. A plaque explains the significance of each item.
Location: 101 South Minnesota Street
Cathedral of the Holy Trinity
The present building is the third church on this location, with the other two lost to the Dakota War and a tornado in 1881. Begun in 1890 and not finished until 1903, it is a fine example of German Baroque architecture. People of all faiths are welcome to visit the glorious interior, originally created by local artists Alexander Schwendinger, Christ Heller and Anton Gag. The scene in the church's apse with God the Father presiding over Heaven and Earth is stunning, as is the intricate main altar.
Location: 605 North State Times: 7AM-5PM daily
Contact: 507-354-4158
Hermann Monument
This 102-foot monument towering over New Ulm depicts Hermann the Cheruscan, the ancient hero whose army liberated Germany from Roman rule in 9 A.D. As German immigrants came to the United States, the legend of Hermann as the father of German independence and a symbol of honor and pride came with them. In 1840, a national Order of Hermann's Sons was founded in New York. In 1887, the Order commissioned a statue of Hermann similar to the one in Germany to be erected in New Ulm. It took nearly a decade to complete the more than 4,000-pound statue, designated by the U.S. Congress in 2000 as a national symbol of German heritage. Visitors may climb a staircase to the statue for a stunning, panoramic view of New Ulm and the river valley, and tour the Interpretive Center in the base of the monument which is sponsored by the Hermann Monument Society. The monument sits on the grounds of Hermann Heights Park, which has playground equipment and picnic facilities. www.hermannmonument.com
Location: 10 Monument Street, at the top of the Center Street hill.
Hours: 10AM-7PM
Dates: Saturdays and Sundays in May and September; Daily from Memorial Day weekend to Labor Day;  Fridays, Saturdays and Sundays of Oktoberfest
Admission: $2.50 per person, children 5 and under free with a paid adult.
Note: Monument closes during inclement weather
Morgan Creek Vineyards
Minnesota's only underground winery produces German, French and American-style wines, including Minnesota coldhearty varietals, in an environment perfect for production and aging. The vineyard and winery sit on several acres off of scenic Highway 68, between New Ulm and Mankato. In addition to the tasting room and gift shop, visitors may enjoy seasonal live music, culinary events and Friday evenings' "Winedown for the Weekend" with a glass of hand-crafted wine and appetizers made in a European wood-fired oven. Spring brings Maifest and the annual Bacchus festival, celebrating the return of the growing season. Summer festivals include the annual German Winefest, and every fall the winery is host to the "Cambria Crush: The Annual Great Grape Stomp." The winery ends the season with the "Christmas Candlelight Winetasting," holiday music, mulled wine and old-fashioned sleigh rides.
Location: Off Scenic-By-Way, HWY 68 between New Ulm and Mankato. Turn at Junction 47, drive 2 miles to 101 South, first farm on the left.
Hours: May – October, Friday & Saturday 11 AM- 9 PM; Sunday 12- 5 PM
Tour Times: Tours and tastings available seasonally upon request.
Contacts: (507) 947-3547 • www.morgancreekvineyards.com
Minnesota Music Hall of Fame
Bob Dylan, Whoopee John, Judy Garland and Prince are among the Minnesota music legends who hold a rightful place in the state's Music Hall of Fame. Each year since 1989, the directors have selected five or six performers or people who have played an important role in musical history to be inducted. An Induction Ceremony is the first Friday if November, with a free Showcase of Bands the next day. The hall, located near the New Ulm Public Library, includes artifacts from the more than 100 Hall of Fame members, and soon will offer an audio tour.
Location: 27 North Broadway
Hours: Wednesday to Saturday, 10 AM-2 PM
Cost: $5
Contacts: 507-354-7305 • www.mnmusichalloffame.org • mmhf@newulmtel.net
John Lind House
This stately 1887 Queen Annestyle home along Center Street was once the home of Governor John Lind, the 14th Governor of Minnesota and the first Swedish-born American to serve in the U.S. Congress. In addition to his political service to Minnesota, he was the U.S. Ambassador to Mexico and has been honored by the King of Sweden with medals and decrees that are proudly displayed in the home, along with large paintings of Mr. and Mrs. Lind, beautiful woodwork extending to the elaborate staircase, an old piano and other elegant furnishings. It has been restored to its original beauty, including the expansive front porch and distinctive tower. As proof of its lovely restoration, the house is on the National Register of Historic Buildings. The home is open for tours and special events and can be rented for receptions and other functions.

Location: 622 Center Street
Tour Hours: June – August: Daily 1-4 PM September – October: Fri.-Sun. 1-4 PM November – May By appointment. Closed Holidays
Admission: $3 per person
Contacts: 507-354-8802 • www.lindhouse.org • lindhouse@newulmtel.net
Wanda Gag House
The childhood home of Wanda Gag, author of the still-popular children's book "Millions of Cats," was designed by her father, Anton, in 1894. The Gag family came from the     country of Bohemia and were known for an unconventional lifestyle. Anton incorporated several artistic touches in his home, such as faux-woodwork and hand-stenciled wall borders. He had his artist studio upstairs under his skylight. Wanda went on to national fame with her books and artworks, and many of them are now housed in various prestigious museums around the world. The Queen Anne-style home has been restored and now exhibits lithographs and paintings by Wanda Gag, paintings by Anton Gag and Flavia Gag, another of the talented Gag children. Also, books by Wanda and Flavia are displayed. The gift shop offers books by Wanda, about Wanda and the Gag family, T-shirts, sweatshirts. jewelry,etc.
 Location: 226 North Washington; handicapped accessible.
 Tour Hours: Weekends May-October, Saturday 10AM-4PM, Sunday 11AM-2PM.  Contact for holiday hours.  Year-round by appointment.
 Cost: $3 per person
 Contacts: 507-359-2632 • wandagaghouse.org • wandagaghouse@gmail.com
Turner Hall
In 1856, many of the Turners who had come from Cincinnati to help settle New Ulm gathered in a log-built store to form the New Ulm Turnverein, dedicated to physical fitness, education and gymnastics. Two years later they built their first Turner Hall on a full city block, at the same location as the existing Turner Hall and Ratskeller. Though the first Turner Hall burned during the Dakota War of 1862, the Turners rebuilt, and portions of the existing building date as far back as 1873. Today, Turner Hall still provides a place for social and civic gatherings and gymnastics, as well as dining. In the Ratskeller, you can enjoy a beverage, lunch or dinner while taking in more than 70 feet of stunning murals of Switzerland, Italy and Germany. An Italian artist painted the scenes in 1873, but they were painted over during WWI to prove loyalty to America. They were restored in 1999.
Location: 102 South State
Tour Hours: Daily 10AM-10PM
Cost: Free
Contacts: 507-354-4916 • www.newulmturnerhall.org • newulmturnerclub@gmail.com
Harkin Store

In the late 1800s, riverboat travelersalong the Minnesota River would stop in a small hamlet known as West Newton, home to a hotel, sawmill, brewery, livery and general store. Today, all that remains of West Newton is the Harkin Store, the general store that seems to have been frozen in time along County Rd. 21 just outside New Ulm. Stored on the shelves are fabrics, storage vessels, chinaware, cooking utensils and medicines. As much as 40% of the inventory is original! The store operated from 1870 until 1901, when its post office function was usurped by Rural Free Delivery to the area farmers. Costumed guides host programs most summer Sundays, and you can still sit on the front porch and look out at the rolling river. It is owned by the Minnesota Historical Society, an indication of its historical value and importance.
Location: 66250 County Road 21 – 9 miles northwest of New Ulm on Nicollet County Road 21
Tour Hours: Open weekends in May; from Memorial Day to Labor Day—daily except Mondays; weekends from Labor Day to MEA weekend in late October
Admission: $5 for adults (18-64), $2 for children (6-17) and  $3 for seniors (65+)
Contacts: 507-354-8666 • www.mnhs.org/places/sites/hs
Brown County Historical Society-Museum
Built in 1910 as the New Ulm Post Office, this brick German Renaissance-style building is on the National Register of Historic Places and is one of the city's most architecturally distinct structures. Inside, you'll find an exhibit on the history of the Dakota War of 1862, an expansive historical display of Brown County's Century Farms, and items from our Sister City of Ulm, Germany, proudly presented in the Ulm Room. The research library attracts over 7,000 users annually and features files on hundreds of families from the county. A gift shop carries many items, including several books on local history. Outside, you can view a map of Brown County's most historically significant sites and an excellent painting of New Ulm during the Dakota War. New Ulm's historic Popcorn Wagon will be outside for special events and on many Saturdays during the warm months. This fascinating site is much more than a gorgeous building!
Location: 2 North Broadway, the corner of Broadway and Center Street
Hours: May – Oct.: Mon.-Fri 10AM-4PM, Sat. 10AM-3PM; Nov. – April: Tue.-Fri. 10AM-4PM, Sat. 10AM-3PM
Fee: $5 per person, students and children are free
Contacts: 507-233-2616 • www.browncountyhistorymnusa.org • bchs@BrownCountyHistoryMNUSA.org
River Region River History & Info Center
In the mid-1800s, the banks of the river near Riverside Park welcomed steamboats carrying people and supplies. Today it is home to the Regional River History and Information Center, a gem that contains displays on the role and value of the river to New Ulm and the region. A new pirate ship playground keeps the kids well entertained. The park is also host to the annual Riverblast festival and flotilla, held over Labor Day weekend.
Location: 101South Front
Contacts: 507-354-8367 www.experiencenature.com (both contacts are for the RRHI Center's Curator)
Monuments
German-Bohemian Immigrant Monument

Around 1870 the first German-Bohemians arrived in New Ulm. Many of them settled near the river along the southern boundaries of the town, in an area that came to be called Goosetown – for their practice of keeping flocks of geese. In 1984 an organization developed to study their ancestors, with an effort to create a monument to honor those same people.
Erected in 1991 to honor immigrants from the area known at the time as Bohemia (now the western Czech Republic), this 7 1/2 -foot-tall granite monument features a statue of a father, mother and child. On the back, the parents legs are raised to represent their love of music and dancing, valued traditions brought from the old country. On stone pavers at the base of the monument are the names of 350 German-Bohemian families who settled in New Ulm.
Location:In German Park at Second North and German Streets
Historical Preservation
New Ulm was designated a "Preserve America City" by the President's Advisory Council on Historic Preservation in 2006. Soon after, we received several grants to fund work on our historic downtown, including the creation of our 16 video podcasts, a new Walking Tour guide, new historic markers and a prototype of our first "Eyewitness to History," Frederick Kiesling.
One of the most interesting pieces of our downtown history is the 1862 Dakota War, where two pitched battles ensued between early settlers and the Dakota Indians. Most buildings in the town were destroyed during this time; three original structures remain – the Forster Building, the Erd building (whose basement served as a hiding place for women and children) and the wooden home of Frederick Kiesling. The life-size figure you see in Kiesling Park is of Mr. Kiesling dressed in his Sunday best. Stop at the Visitor Center to get the new Walking Tour brochures and to check-out the iPods. Stories of the Kiesling and Erd buildings are two of the sixteen presentations.
Brown County Veterans Memorial

The Brown County Veterans Memorial was dedicated on Veteran's Day, 1999. This memorial was designed by C.J. Schmidtke and received recognition in a national trade magazine for its unique features. The project was initiated and developed by the Brown County Veterans Council.
This memorial was presented to Brown County as a lasting tribute to past, present and future veterans who honorably served in the Armed Services of the United States of America during periods of peacetime and designated periods of armed conflict.
The Eternal Flame, funded by a grant from the New Ulm Area Foundation, was installed in 2001 to draw attention to the memorial in recognition of those men and women who served to preserve freedom in the free nations of the world.
There are currently 2,065 commemorative paver blocks at the memorial site; space for 130 pavers remains. Contact the Brown County Veterans Service Office for information on purchasing a paver block at 507-233-6636.

Location: 14 South State Street, on the front yard of the Brown County Courthouse.
Defenders Monument
Erected by the State of Minnesota in 1891, this monument honors those who defended New Ulm during the Dakota War. The artwork at the base was created by New Ulm artist, Anton Gag.
Originally sited at the intersection of State and Center Streets, the monument was moved to its present location in 1917 for safety reasons due to the rising use of automobiles.
Walk up to the monument (accessible from State or Washington Streets) to see the basreliefs on the base and read the inscriptions. Tap on the monument, and you'll discover that the stonelooking structure is actually made of metal!
Location: In the median of Center Street, between State and Washington Streets.